When doing business in different countries, it is vital to have the local knowledge and language in order to succeed in the countries you are in.
After a decade in China, Andreas Thorud brings invaluable hands-on experience and knowledge of the unique complexities of Chinese business. He successfully steers Aker BioMarine through the numerous regulatory challenges, cultural differences and conventions of Chinese business.
What is your role at Aker BioMarine?
At the moment I am handling the Chinese market for Superba Krill Oil, as well as overseeing the other Asian markets. The Aker BioMarine subsidiary in China also comes under my portfolio, so I take care of the feed ingredient too. So, my day to day work is very varied. We are in China which is a country with huge potential for us. But you have to navigate through the unique way of doing things from a regulatory point of view, from a business point of view, and from a social point of view.
My mission is to drive Aker BioMarine forward here, but on that path, we encounter many things that need to be looked after. In some ways we want to be a solid local partner, but I also feel like we operate as a bridge between China, and Asia, and Aker BioMarine's values.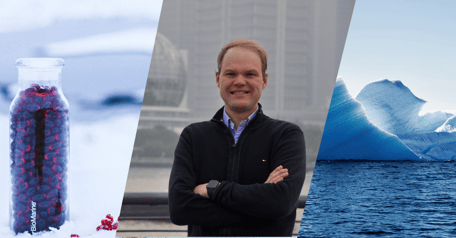 Are there any particular requirements for the Chinese market that you think are unique?
In my mind, there are three things:
First of all, we need to establish trust. Trust towards our partners, prospects, and stakeholders, because in China, relationships can sometimes be more important than the product.
The second thing, is that we have to care. We have to show that we care for our partners in China, and our prospects. We have to show that we care about their challenges, and from there be able to create partnership-based solutions.
The final point is comfort. In this culture, you have to feel comfortable dealing with people. Or, to put it another way, the content of an agreement, the key aspect is that they have to feel comfortable. So, whether it is krill meal or krill oil, we have to create trust. We have to show care, and we have to make our partners and prospects comfortable at the end of the day. If we can do those three things, then we have all the ingredients to be successful here.
Which of our heartbeats do you identify with most, and why?
We can do & grind through. This heartbeat can be used in many contexts – however, I think it captures the essence I feel personally has been needed and is needed in many new and emerging markets, to tackle regulatory and other issues.
What has been the biggest challenge in your role?
There have been many challenges in Aker BioMarine, as it should be. I think the key is that as long as we have the belief to always find a solution and we do not fear any challenges, we embrace them.
In just one sentence, explain what you think makes Aker BioMarine as a company so unique?
The drive and focus on building a company so suited for tomorrow's business.
If you were naming Aker BioMarine's next vessel what would you call it, and why?
My suggestion would be Antarctic Unifier. I think the vessel can unify, or make as one, all what is Aker BioMarine, from people to technology, and beyond.