Consensus estimates
Aker BioMarine will collect financial and operational estimates from the equity analysts currently covering the company. These numbers become a proxy for what the market expects in terms of the company's results.
Overview of consensus estimates per 11 July 2022. Participants: Arctic Securities, DNB Markets, Nordea Markets, Pareto Securities and Sparebank1 Markets.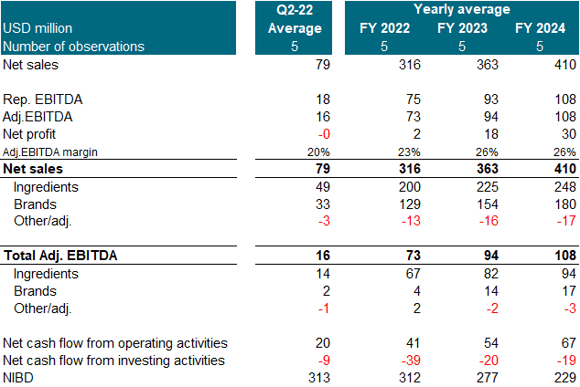 Analysts following Aker BioMarine
Aker BioMarine is followed by equity analysts, which regularly produce research reports. An overview of who these analysts are, and their contact information is provided below.
| | | |
| --- | --- | --- |
| Company | Analyst | Telephone |
| Arctic Securities | Axel Jacobsen | +47 21 01 31 58 |
| DNB Markets | Ole Martin Westergaard | +47 24 16 92 98 |
| | Simen Aas | +47 24 16 91 17 |
| Nordea Markets | Sander Lie | +47 47 64 88 22 |
| | Jørgen Buraset | +47 24 01 50 80 |
| Pareto Securities | Carl Emil Kjølås Johannessen | +47 24 13 39 41 |
| SpareBank 1 Markets | Mari Panengstuen | +47 24 13 37 66 |
| | Øyvind Mossige | +47 24 13 37 02 |