If there's one word to describe 2022 for Aker BioMarine it would be "turnaround".
After a challenging 2021, we drew on our "can do and grind through" attitude to focus our efforts and seize opportunities that support our mission to improve human and planetary health. I am pleased to say that that Aker BioMarine was able to turn the ship around and show growth in 2022. Years of hard work, investments and patience has finally gotten the company to scale, and our course is now set for further growth.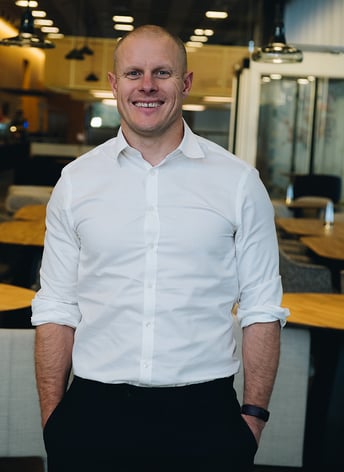 Our improved performance stems from growing sales, improved harvesting and a concerted effort across Aker BioMarine to streamline our operations and uncover efficiencies. The improvement program that was initiated in late 2022 is targeting to significantly reduce cost, in addition to strengthen the core business platform and create a more robust company set for further growth.
Core activities
During 2022, the Human Health & Nutrition team executed their sales acceleration plan. A great deal of effort has been put into re-organizing this line of business launching new products, publishing new science and driving regulatory approvals, and we expect to return to growth in 2023-24.

Harvesting delivered a new all-time high production record, exceeding production the year before by 19%. Thanks to an efficient supply chain and logistics operation, we also made significant strides in Animal Health & Nutrition in 2022. Feed producers, as well as fish and shrimp farmers, are benefiting from the proven advantages of the QRILL products in terms of the growth and health of their marine species. With a competent team of sales and marketing resources locally in all the key markets we operate, we grew our Aquaculture sales significantly last year.
Our brand business also saw good developments in 2022. Our own consumer brand, Kori, continued its growth throughout the year, with both increase in distribution and same store sales. In the private label business, we transitioned in new management during 2022, as the founders exited the business. With the new management in place, we have laid the foundation for the next growth phase.
A sustainable fishery
As a company, we are only able to grow as long as we take care of the ecosystem in which we harvest. We are proud to report that in 2022, new research concluded that the Antarctic krill fishery is the cleanest in the world based on its extremely low bycatch rate. We also received the results of Sustainable Fisheries Partnership's 2021 review showing that Aker BioMarine is an A-rated fishery for the seventh consecutive year. One of our core priorities is to contribute to a thriving Antarctic ecosystem, which is why in 2022, we pledged an additional USD 1 million to support of the Antarctic Wildlife Research Fund and its work to ensure a resilient Antarctica and up-to-date information.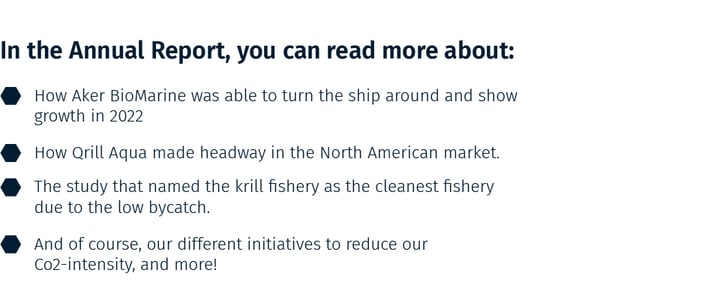 Backed by science
We believe that scientific research is key to building better understanding of krill and its potential for both human and animal health. During the year, we participated in several scientific studies that documented the impact and potential of krill on both humans and animals. Among others we learned, through a study with Oslo University Hospital, the University of Oslo, and Akershus University Hospital, that krill can slow down aging at a cellular level and improve quality of life in humans. We also confirmed, through a review of more than a decade's worth of data and research, that krill has a positive impact on growth performance, feed intake, filet quality and organ health in salmonids. In addition, we participated in a breakthrough study with CSIRO, Australia's national science agency, to investigate the effects of krill oil on osteoarthritis of the knee. After the six-month trial, scientists concluded that krill oil significantly reduced knee pain and improved stiffness and physical function.
Innovation
At Aker BioMarine, we are investing in technology and innovation. We made significant progress in 2022 with Aion, a company spun out of Aker BioMarine to focus on scaling circular plastics, starting with Aker BioMarine`s own challenges with plastic waste. We announced during the year that Ocean 14 Capital Ltd., a private equity firm, will jointly finance Aion along with us, to support the company during its initial growth phase. It was also a year of progress for our new plant in Ski, Norway, where we plan to produce a new protein product and host our own protein innovation center. The plant is currently on track for a mid-2023 opening. In addition, we signed our first commercial agreement for Lysoveta in 2022, with the aim to develop products for important areas like Alzheimer and Gestational diabetes.
People
When I look back on 2022, I see a year of extraordinary achievements, due to our extraordinary people. Together, we have weathered all the challenges that we faced. We continue to be a 'can do and grind through' organization, meeting each challenge head on and staying laser focused on growing our company because of our strong belief in the health benefits of krill. I want to thank our people, our investors, our partners, our customers, and everyone out there cheering us on for the past 16 years. We've come a long way on our krill journey, but we have just started to tap into the great potential that lies ahead.