Quick and easy Omega-3 Test offers an early warning for heightened risk of heart disease.
November 22, 2016 – Oslo, Norway: A deficit in marine omega-3 fatty acids has become a global health concern, which leads to higher risk of chronic disease, affecting most developed nations. At Health Ingredients Europe, Aker BioMarine, a leading supplier of krill-derived products, and Prof. Dr. Clemens von Schacky, a cardiologist and a renowned expert in the field of omega-3 fatty acids, take on a mission to bring more awareness to the serious and costly implications of the deficit in omega-3 fatty acids EPA and DHA.

"Most people have heard that the intake of fatty fish as well as long chain omega-3 fatty acids of marine origin is good for them. However, it is difficult to know how much omega-3s you actually need to ingest. Is one serving of Atlantic salmon per week enough? Or how much fish oil, krill oil or fish oil concentrates should you take?"

Nils Hoem

PhD, Chief Scientist at Aker BioMarine.
Luckily, omega-3 levels in the blood can be measured by using a simple tool called the Omega-3 Index Test. By recording the percentage concentration of omega-3s EPA and DHA in red blood cells, consumers and health practitioners have the ability to identify, correct and maintain healthy levels of omega-3s EPA and DHA.

"Determining the Omega-3 Index offers you an opportunity to improve your health. A low Omega-3 Index means risk for heart disease, elevated blood pressure, suboptimal brain function, increased likelihood for major depression, and other health issues. From the Omega-3 Index, we learned a lot why humans need marine omega-3 fatty acids, and how much of them. The good news is that increasing the Omega-3 Index is easy – just increase your intake of marine omega-3 fatty acids. However, baseline levels of individuals differ, as does the response to increased intake. This is why one dose doesn`t fit all."

Prof. Dr. Clemens von Schacky

Cardiologist, co-inventor of the Omega-3 Index Test and CEO Omegametrix GmbH, the European laboratory for the HS-Omega-3 Index.
Krill – a proven source for increasing the Omega-3 Index
Since EPA and DHA levels have a direct correlation to sudden cardiac death, researchers have turned their investigations toward krill oil to see if it is a good source of EPA and DHA.
In a 2014 study, researchers investigated the effect of Superba™ krill intake in 300 volunteers, divided into five groups and supplemented with krill oil at either 0.5, 1, 2 or 4 grams per day or placebo (olive oil) over a period of 12 weeks.
The results showed that krill oil is an ideal choice for raising the Omega-3 Index because its omega-3s are mostly bound to phospholipids, which enhance cellular uptake and carry EPA and DHA into the blood more efficiently. For example, people who took 4 grams of krill oil per day raised their Omega-3 Index by 2.7% points, from 3.7% to 6.4%.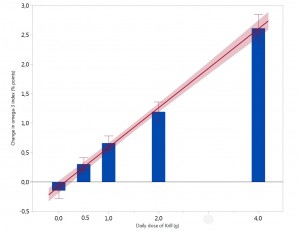 Figure: % increase in the Omega-3 Index from baseline after 85 days of treatment with placebo (olive oil), 0.5, 1, 2 or 4 g krill oil. Omega 3 index change = 0.6712 x daily gram dose of KO -0,08527. Error bar is constructed using a 95% confidence interval of the mean (N = 59 per dose group)
To learn more about the why's and the how's of the Omega-3 Index with Dr. Clemens von Schacky, and learn how to boost your levels with Dr. Nils Hoem, visit us at Aker BioMarine's booth F20.
Presentations:
Join GOED's media luncheon as Dr. Clemens von Schacky will be speaking on the benefits of Omega-3s and GOED will present updated German consumer research, on Tuesday, November 29th from 12:00-13:30 at Concorde Room.
Join Nils Hoem as he talks about how to raise and maintain healthy Omega-3 levels with Superba Boost Capsules, on Wednesday, November 30th from 13:00 – 13:25 at the Seminar Theatre, stand D82 in Hall3.
For more information, please contact:
Katrin Berntsen
Director Communication
Ph:+47 92054570
katrin.berntsen@akerbiomarine.com
About Aker BioMarine
Aker BioMarine is a leading supplier of krill-derived products to the consumer health and wellness and animal nutrition markets. Aker BioMarine is dedicated to the sustainable harvest of krill and development of krill-derived products. The company supplies biomarine ingredients through a 100% traceable supply chain that it also owns and controls. Aker BioMarine was the first krill company to be awarded Marine Stewardship Council (MSC) certification.