Oslo, November 8, 2022: Aker BioMarine is onsite in Shanghai at China International Import Expo (CIIE) from November 5-10, exhibiting its Antarctic krill-based products for human health & nutrition, aqua, and pets. This will be Aker BioMarine's fourth consecutive year participating in the event, and this year, the company will conduct signing ceremonies to mark new strategic partnership agreements with Chinese customers.
Signing ceremonies with Aker BioMarine's partners in China
During the Expo, Aker BioMarine will host an official Norwegian delegation representing the Norwegian Consulate General in China at the company's CIIE exhibit. The Norwegian delegation will bear witness to the signing with a total of 18 strategic partners from the human health & nutrition and pet food industries.
"China is the world's second largest importer and consumer in the world, and it is a key strategic market for Aker BioMarine. We have solidified many long-term partnerships in the country, and the upcoming Expo is a great opportunity for us to officially declare our collaborations and progress in the Chinese market," says Thong Luu, SVP Human Health & Nutrition Asia, Aker BioMarine.
Krill sales, samples, and live streaming at Aker BioMarine's CIIE exhibit
At the Aker BioMarine stand, company representatives will be ready to talk to attendees about how krill is a superior source of omega-3 and choline for the human nutrition supplement market. Krill is also proven to be an effective ingredient for pet food, yielding clear health returns for domesticated animals as well. Aker BioMarine will offer product samples from its stand, as well as run live streaming and sales offers.
"CIIE is attended by hundreds of industry leaders and large organizations from around the world – and it's a key event for us to promote our products to current and potential customers, officials, and consumers. We are excited to take part and share the benefits of krill, as well as celebrate and solidify our many partnerships in China," says Regional Sales Director, HH&N China, Jim Wang.
5th Annual CIIE held at the National Convention and Exhibition Center
CIIE officially launched in 2018, an initiative from Chinese President Xi Jinping to support economic globalization in the country. The Expo is hosted by the Ministry of Commerce of the People's Republic of China and the Shanghai Municipal People's Government and will take place at the National Convention and Exhibition Center in Shanghai.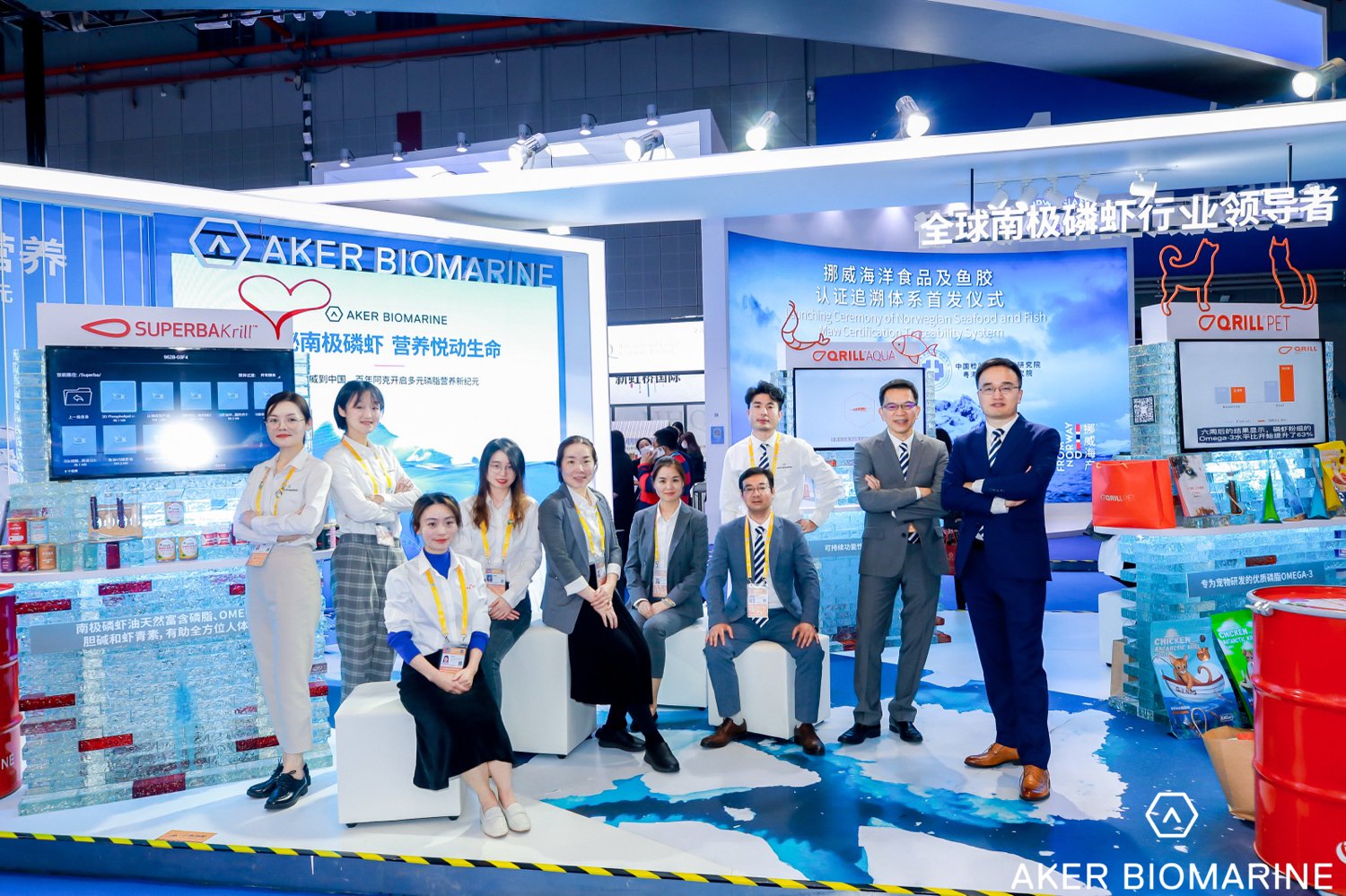 About Aker BioMarine ASA

Aker BioMarine is a biotech innovator and Antarctic krill-harvesting company, dedicated to improving human and planetary health. Listed on Oslo Stock Exchange, the company develops krill-based ingredients for pharmaceutical, nutraceutical (Superba Krill®), aquaculture (QRILL® Aqua), and animal feed applications (QRILL® Pet), including INVI™, a highly concentrated protein isolate, and LYSOVETA™, a targeted transporter of EPA and DHA from krill. Aker BioMarine's fully transparent value chain stretches from sustainable krill harvesting in pristine Antarctic waters through its Montevideo logistics hub, Houston production plant, and to customers around the world. The company's strong focus on sustainability inspired the launch of AION by Aker BioMarine, a circularity company dedicated to helping companies to recycle and reuse waste. Read more: www.akerbiomarine.com