For the second year in a row, Aker BioMarine is the only reduction fishery reported in "very good condition".
The Sustainable Fisheries Partnership (SFP) released its annual sustainability overview of reduction fisheries for 2016, and for the second year in a row, Aker BioMarine was the only fishery to receive an "A" rating.
Aker's fishery was compared to twenty of the most significant fisheries used for the production of fishmeal and fish oil. Similar to last year's report, only 3.8 percent of the total catch volume of the reduction fisheries comes from stocks in very good condition and that corresponds to Aker's BioMarine's fishery alone.
"There are no shortcuts when it comes to sustainable business practices at Aker BioMarine. We are no longer just fishing for krill in the Antarctic in a sustainable way — we have a meaning to our everyday work, which is to ensure healthy oceans and healthy lives. We are ecstatic to receive another 'A' rating from the SFP to put further focus on doing business the right way," said Cilia Holmes Indahl, Director of Sustainability, Aker BioMarine. "We hope to be an inspiration to other reduction fisheries around the world and are confident that positive change will come to the industry. Together we can take the right steps to ensure that fisheries take responsibility for the ecosystems in which they fish."
The Sustainable Fisheries Partnership (SFP) is a young and dynamic, business-focused NGO (non-governmental organization) that is helping to reshape the world of corporate responsibility by allowing companies to directly engage with suppliers of natural resources. As part of the SFP's mission to assess and improve the needs of sustainability, the organization analyzed data from 20 stocks from 13 species and two main groups (fish and crustaceans), rated according to the sustainability assessment presented on FishSource (www.fishsource.com). The fisheries were ranked into four sustainability categories: A-very well managed fisheries, B1-reasonably well managed fisheries, B2-reasonably managed fisheries, and C-poorly managed fisheries.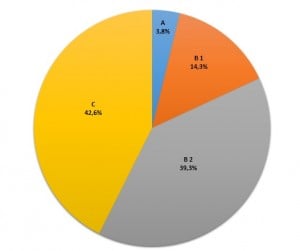 Figure: Performance of reduction fisheries in terms of sustainability
Although Aker BioMarine received a very good rating, improvements to the overall industry are needed. This report shows that less than 60 percent of the volume of fish comes from reasonably well managed fisheries. The full report titled Reduction Fisheries: SFP Fisheries Sustainability Overview 2016, can be found here.
During the past year, Aker BioMarine:
Was awarded an "A" rating in the 2015 Reduction Fisheries Sustainability by the Sustainable Fisheries Partnership (SFP) Overview
Strengthened its partnership with the World Wide Fund for Nature (WWF-Australia) to bring it closer to activities in the Southern Ocean
Established the Antarctic Wildlife Research Fund (AWR), in partnership with several NGOs, to facilitate and promote more research on the Antarctic ecosystem
Was awarded sustainable krill harvesting certification for another five-year period (2015-2020) from the Marine Stewardship Council (MSC)
Was the winner of Nutrition Business Journal's Business Achievement Award (January 2015 edition) in the category of Sustainability; this was the first time an omega-3 company received this award
Received Non-GMO Project Verification
For more information please contact:
Global media
Katrin Berntsen
Director Communication, Aker BioMarine
katrin.berntsen@akerbiomarine.com
+47 92054570
OR
US media
Becky Wright
Marketing & Communications Director, Aker BioMarine
becky.wright@akerbiomarine.com
206-855-6736 x210
Aker BioMarine is a leading supplier of krill-derived products to the consumer health and wellness and animal nutrition markets. Aker BioMarine is dedicated to the sustainable harvest of krill and development of krill-derived products. The company supplies biomarine ingredients through a 100% traceable supply chain. Aker BioMarine was the first krill company to be awarded Marine Stewardship Council (MSC) certification.
SuperbaTM Krill is a pure, natural source of the health-promoting EPA & DHA omega-3 essential fatty acids and the naturally occurring antioxidant astaxanthin. The uniqueness of SuperbaTM Krill is that the omega-3 fatty acids are provided in phospholipid form. In vitro, in vivo and human clinical research has demonstrated the safety and efficacy of SuperbaTM Krill.