Commitment to employee safety has been an incremental part of our value chain since we started manufacturing at our Houston plant in late 2015.
This is why we are so proud that the Texas Mutual Insurance Company, the state's leading workers' compensation provider, has awarded our Houston plant with the Platinum Safety Partner Award.
The award is presented to companies that demonstrate their commitment to workplace safety by implementing an exemplary safety program and controlling their workers' compensation losses.
We go far and beyond to provide the training and resources necessary to protect employees from workplace hazards, which is also reflected in our outstanding safety record. As Texas Mutual put it in their feedback, "it is clear that safety is a core value in your organization."

Hurricane Harvey was an unpleasant reminder of how important it is to conduct safety exercises and be prepared for the unexpected. Although our Houston manufacturing plant did not sustain damage, we performed a controlled shutdown procedure to secure the safety of the employees and the site against Hurricane Harvey.
Being one of only 200 businesses receiving this award out of 68,000 policyholders across Texas shows how serious we are about safety.
The jury brought out the following key areas that contributed to the safety award: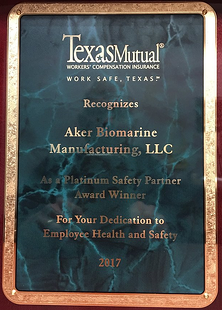 - Senior management/ownership support of the company's safety program
- Consistent employee safety training and supervisor training along with good recordkeeping
- Good housekeeping practices, maintenance program and engineering controls evident
- Above average new employee orientation program
- Excellent Internal First Aid/CPR training of employees
- Management and employee accountability for safety is evident
Our people at the Houston plant run complex processes every day, which require high-level knowledge and operating ability. This is why making sure that safety does not just happen, but is carefully planned, built, and executed into our everyday routines, is top priority. A safe work environment produces happier employees, higher efficiency, and improves quality.
READ MORE: How to foster a growth culture based on trust, transparency and freedom