AION by Aker BioMarine is a circularity company that recycles waste into new products. AION (Greek for 'eternity') repurposes product and plastic waste into new products that are used in high volume such as shopping baskets and food trays.
AION is already working with a range of customers, such as McDonald's who has launched green recycled trays in their Norwegian restaurants. NorgesGruppen, one of the largest players in the Norwegian grocery retail market has introduced AION's shopping baskets in some of their MENY stores. In addition, Varner, a Norwegian textile company is utilizing AION's concept in their products.
AION has also kicked off cooperation with companies like Snøhetta, a globally acknowledged architecture agency and Cognite, a global expert in industrial data, both of which are partners within digital and design innovation.
Created to ensure circularity for Aker BioMarine's waste streams, AION aims to continuously expand this business model to new products and waste streams.

---
Read more and contact us:
If you are interested to hear more and find out how your company can work with AION, please contact:
Runa Haug Khoury CEO, AION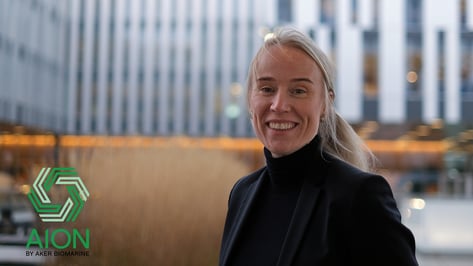 ---